Experience the unparalleled taste of Carbon Champagne - anything else is just an imitation.
Vintage 2002, a generous vintage created for the celebrations of 110 years of Bugatti, shaped by passion.
Champagne Carbon is first and foremost a passionate story between the vines, our terroirs and the desire to shake up the codes in which I grew up. Carbon represents my first entrepreneurial project. Ambition and innovation have become my two keywords. Actor of a definite evolution in Champagne, I wanted to undertake in a new perspective. Seeing things in a big way, I therefore mixed the Champagne tradition with a completely distinct dry matter. Today, the different vintages mark the spirits and highlight the new era of the 21st century in Champagne. My childhood memories are precise, tradition, know-how then ambitions and the desire to always go further.
Here is Carbon.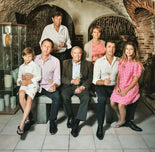 Sharing the same spirit
We find this same avant-garde spirit with Bugatti.
"The search for perfection is at the heart of all our actions, which leads us to constantly want to push back our own limits. says Bugatti President Stephan Winkelmann. 
​"Furthermore, we operate and grow internationally successful businesses from our homeland, the Grand Est region of France, where our founding fathers once started their businesses." he added.
CELEBRATE LIKE A CHAMPION
Champagne Carbon made its official return to the Formula 1® Grand Prix podium from 2017-2019.
This partnership was perfect as both share a similar story of heritage, pursuit of perfection, and a desire to innovate.
The carbon-coated Champagne Carbon bottles, which use the same type of carbon fiber as Formula 1 cars, were sprayed on the podiums of the world's most glamorous circuits.
The podium celebrations feature bottles with unique markers for each of the top three drivers, with Gold for the winner, Silver for the second-placed driver, and Bronze for the final podium finisher.
Champagne Carbon is the official former partner of Formula 1: 2017-2019